Paddling Stockholm - Activities & Prices
Urban kayaking at its best! A perfect activity for stag parties and hen parties.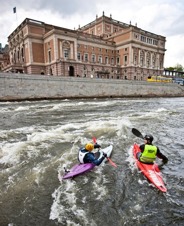 Paddling Stockholm invites you to a session of professional kayak training at a convenient location in Stockholm City, right between the Opera house and the Royal Palace. Click here for a map.
Private instructor for 1 person: SEK 1,800
Private instructor for 2 people: SEK 1,200 pp
Group of 3-12 people: SEK 1,000 pp
ALL INCLUSIVE VIP EVENT - For groups of 10 to 20 people we offer a package including activity, transportation, sauna and a nice three course dinner. Starting from SEK 2,099 per person. Ask for quote!


All prices include Swedish VAT, 6 %.
We would like to know:
Which activity you are interested in (more info to the left)
Your preferred date and time
The number of participants


Phone/sms:
John Westling: +46 707 992 527
Tobias Nilsson: +46 735 177 060

Please allow up to a couple days for e-mail replies. If urgent, just send us a text message too.